We are Employment Advocates:
We practice Employment Law;
Employment Advocates
An Employment Advocate is an Employment Law specialist

Our Employment Advocates are either qualified legal professionals or human resources experts.   We strive to be the best Employment Advocates in NZ by holding ourselves to the highest standards possible.
Have you been fired or treated unfairly at work? We specialise in handling termination, exit negotiations, personal grievance situations, disciplinary meetings, and providing employment law advice. Our experienced team of employment advocates is here to support you every step of the way. Contact us today for a free consultation!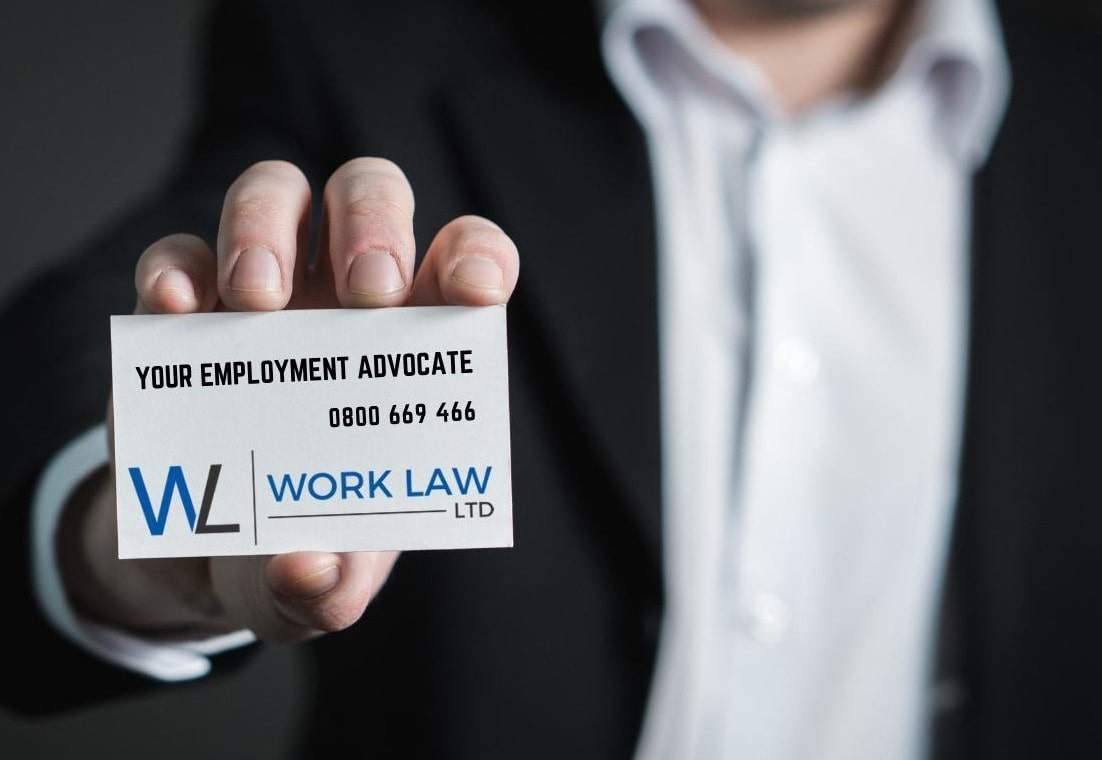 What is an Employment Advocate?
The difference between an employment advocate and an employment lawyer is that employment advocates can provide legal services on a No Win No Fee basis. 
An employment advocate performs the same services as an employment lawyer.   We can defend you in your workplace and all the way to the employment court if necessary.  Our Employment Advocates either hold law degrees or HR qualifications.
Our team of Employment Advocates are ALL specialists in Employment Law, which means we are fully equipped to help with any Employment Relationship Problem you are facing.
Why do we do this?
Ask anyone on our team why they choose to be an employment advocate and they'll tell you they love to help people.
We also enjoy the puzzle of working out all the facts and putting them back together in a logical and legal manner and standing up for the rights of people who are unable to stand up for themselves.
But Most Of All:  We get great satisfaction from turning around a client's situation from being desperate, quite often in tears and unwell from stress to coming out the other end of it satisfied that they got a fair deal, able to move on with their life and work and put it all behind them. You can read about the relief our clients feel in their reviews.
Who We Work For
We believe that everyone deserves access to justice.  This means if you can't afford an employment lawyer but need support with a workplace issue we will do our best to help you.
This means that we will only charge a fee if we are successful in obtaining a financial settlement for you in addition to other terms of the settlement, e.g. written apology and reference.
But sometimes we charge an hourly rate:
*Where we assist with disciplinary and other meetings that achieve a non-financial settlement, such as job reinstatement, we charge an agreed hourly rate.  We will inform you before we start work if your work will be on a No Win No Fee basis or hourly rate.
How does it work?

When You Contact Us We will:
Assess your situation over the phone for free.
Help you make a decision about pursuing the matter with your employer (or former employer).
Refer you to someone who can help you. Either someone in our team will take your case and you will be put in touch with your employment advocate within 24 hours, or we may occasionally ask you to speak to your employer again or refer you to another service if we are not the right people to help.
Don't Hesitate …

You have 90 days from the date your unfair dismissal or employment problem occurred (or the date you became aware of the employment problem) to lodge a personal grievance.
Free phone or email consultation
We stress the importance of consulting an employment advocate as soon as possible to allow sufficient preparation time to raise the personal grievance on your behalf. Contact us via our contact form, complete all your details and our consultant will assign your case to a qualified employment advocate.
We are also able to advise on recent developments in the Employment Relations Act, including the 90 day trial period rules.
Our Employment Advocates have the solution to your employment issues. Call us on 0800 NO WIN NO FEE or email us using the contact form below:
---
What our clients are saying
Brilliant Kam
22/11/2023
Kam was amazing to work with. I read through the reviews and was already aware that I was in the right hands. She showed a lot of empathy and patience through out the whole progress. I feel at ease now.
Thank you Kam and team.
Verified
Kam Bailey was the hero I needed.
22/11/2023
She showed deep kindness towards her clients and everyone else that was invovled. She was respectful, patient and always made sure that we were all comfortable through out the whole process. Thank you for treating me like a human Kam, also for making me feel heard and being the voice for me when I was too afraid to defend myself. You truely are the best.
Verified
CONTACT US FOR A FREE CASE EVALUATION

LET'S GET LEGAL
Statistics prove that legal representation improves your chance of a successful outcome. Don't hesitate, you have nothing to lose by having a free chat with one of our experts.
You can Call us or Email Us using the phone number or the form below.